For Personal Use
If you are not purchasing a license as a company and if you are not going to use the 3ivx Software for professional or direct revenue generating purposes, the Plus license is the one to get.

Licenses can be purchased electronically at the 3ivx Store. We accept Mastercard, Visa and PayPal payments.

For Professional Use
For low volumes (less than 10), please use the 3ivx Store. Orders for higher volumes are eligible for a discount and a formal quote can be provided if necessary. Payment is done by international wire transfer. Our business sales department can be contacted using this form or by phone.

Software Developers / Product Bundles
The 3ivx MPEG-4 software can be bundled and integrated with third party software and hardware products. For this purpose, a Master Software License is available which requries a one time upfront payment plus a per copy fee. On a quarterly basis, the aggregate amount of units for the previous quarter needs to be reported and the associated per copy fees remitted.

The MPEG-4 Patent Fees can be included in or excluded from the 3ivx license fee.

When you are bundling the software with your product, it is possible to customize the component package. There are various versions available for licensing including: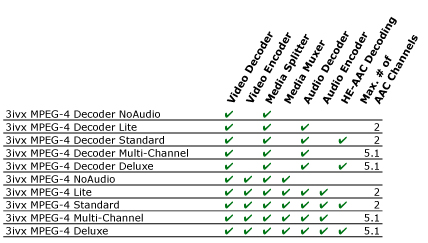 Other Platform options include:
3ivx MPEG-4 for Mac OS
3ivx MPEG-4 Decoder for Mac OS
3ivx MPEG-4 Linux Video Codec Library
3ivx MPEG-4 Linux Video Decoder Library
Tailoring and Custom Development
Subject to availability of engineering resources, it is possible to request specific features to be added to the 3ivx Software. The development cost varies depending on the engineering effort involved.
Enhancements, Maintenance and Support
EMS Services can be provided as part of the License Agreement or independently thereof. Companies that have a support Agreement always receive priority over Ad Hoc support requests.